Häufig gestellte Fragen
How long does the Divot Board last?
---
The Divot Board has a replaceable top pad. Designed to be able to pull off the old pad and peel and stick a new pad. The durability of the Divot Board pad depends on how hard and how fat it is hit. For adults we see a range of between 1000 and 3000 hits before needing a replacement. Though, we have kids that have been hitting on the Divot Board for over a year with more than 6,000 hits. You will see wear on the pad, but it is working if you can still read the divot. It is time to replace the pad when the plastic discs start to come off. click here to order.
---
I am a high school golf coach; I want to buy 10 for my high school golf team; do you offer discounts for educational institutions?
---
Yes, we do but our pricing agreements with our distributors prevent us from advertising those prices. If you are looking for 10 or more units for educational purposes, please email us at info@DivotBoard.com
---
Do you offer a guarantee?
---
If you are not happy with your Divot Board in the first 30 days, return the Divot Board for a full refund. Please contact us before you return the Divot Board, so we know you are sending it back.
---
Do you ship internationally?
---
We are based in the United States. The problem with international shipping is getting through customs without incurring a tariff or tax that the customer must pay. For that reason, we only ship internationally using the United States Postal Service (USPS) because they currently are the most successful at avoiding excess fees.
We are working to develop distribution in Canada and Europe.
---
I understand the value of reading your divot, but do you have specific training on how to use the Divot Board to improve my game?
---
The Divot Board is a feedback tool, it does not teach swing mechanics. We are building a list of online instructors that have incorporated the Divot Board into their teaching. This list will grow as more instructors are introduced to the Divot Board.

---
What are the Dimensions?
---
22 ¼" long x 6" wide Height without the spikes 3/8" - Weighs 1.7 lbs. There is a hook that allows you to attach the Divot Board to your golf bag when taking it to the driving range.
---
How high above the mat/carpet does the Divot Board sit?
---
The Divot Board has ¼" spikes that stick into the mat/carpet. The top pad sits about 3/8 of an inch above the mat. When you are out on the golf course you will rarely find a level spot to hit from. We should always be judging whether the ball is above or below our feet. You can choke down on the grip about 3/8 of an inch to make up for the 3/8" height of the Divot Board.
---
Does the Divot Board move when you hit it?
---
It depends, if you are on plush carpet or artificial turf the Divot Board's spikes will hold it in place, if you are on thin carpet or thin artificial turf the Divot Board will move some. We are developing a large mat that you can stand on with an insert for the Divot Board to fit into, so it will not move at all and it can be used on tile and hardwood floors. We will sell the mat on our website. We hope to roll out this product sometime in 2021.
---
How do I properly replace a Divot Board pad?
---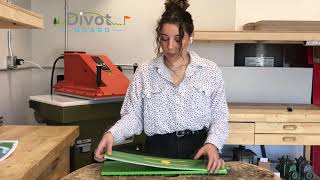 ---
---